Imam Feisal Abdul Rauf
Imam Feisal Abdul Rauf, founder and CEO of the Cordoba Initiative, has served as Imam of the al-Farah mosque since 1983 and is the visionary behind the Cordoba House project planned near the World Trade Center in New York City. The author of three previous books about Islam, an American goodwill ambassador abroad, and a sought-after speaker and media guest, he lives in New York City.
Books by this Author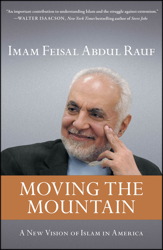 Now in paperback, an open and honest clarion call inviting readers to a deeper understanding of the role of moderate Muslims in America and in the world.

Muslims in America who reject extremist or fundamentalist expressions of Islam at home and abroad feel the urgent need for a voice that can represent them in the current debate about Islam, America, and the West. Imam Feisal Abdul Rauf—the so-called Ground Zero Imam—has become that voice. This is his vision for a new, American...
Author Voices
May 01, 2012
As Islam has spread throughout the world, it has combined religion with native cultural practices. Many centuries later, separating the religion from the underlying culture has become difficult. That's why Islam as practiced in Egypt differs from, say, Islam as practiced in Malaysia.
Mona Eltahawy
describes
cultural practices in Egypt and the Middle East that predate Islam yet have been embraced by many people now as part of Islam. The practice of genital mutilation of women, for example, is found only in Africa. If it were part of Islam, it would be practiced by...
see more
Imam Feisal Abdul Rauf on the Web