Gerald Posner
Gerald Posner was one of the youngest attorneys ever hired by the Wall Street law firm of Cravath, Swaine & Moore. He is the author of eleven books, including New York Times bestsellers, and one a finalist for the Pulitzer in History. Posner has written dozens of articles for national magazines and papers and has been a regular contributor to NBC, the History Channel, CNN, FOX News, CBS, and MSNBC. He lives in Miami Beach with his wife, author Trisha Posner.
Books by this Author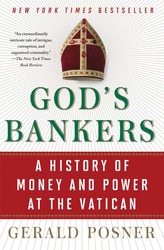 A deeply reported, New York Times bestselling exposé of the money and the clerics-turned-financiers at the heart of the Vatican—the world's biggest, most powerful religious institution—from an acclaimed journalist with "exhaustive research techniques" (The New York Times).

From a master chronicler of legal and financial misconduct, a magnificent investigation nine years in the making, God's Bankers traces the political intrigue of the Catholic Church in "a meticulous...
My Life in 8 Words
"
"
Fabulously hectic, interesting, ever changing, and always challenging
Author Revealed
Q. What is your motto or maxim?
A. unless you are the lead dog, the view never changes
Q. What are your most overused words or phrases?
A. interesting (not everything is that interesting, but I tend to use it in conversation as someone uses "yes, continue"
Q. What's your fantasy profession?
A. either pro surfer or formula one driver
Q. What's your greatest fear?
A. having my best book, and biggest seller, published posthumously
Q. What is your biggest pet peeve?
A. rude people - it's a small planet, being nice just makes it easier for all us