Gerald Posner
Gerald Posner was one of the youngest attorneys ever hired by the Wall Street law firm of Cravath, Swaine & Moore. He is the author of eleven books, including New York Times bestsellers, and one a finalist for the Pulitzer in History. Posner has written dozens of articles for national magazines and papers and has been a regular contributor to NBC, the History Channel, CNN, FOX News, CBS, and MSNBC. He lives in Miami Beach with his wife, author Trisha Posner.
Books by this Author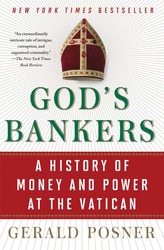 A deeply reported, New York Times bestselling exposé of the money and the clerics-turned-financiers at the heart of the Vatican—the world's biggest, most powerful religious institution—from an acclaimed journalist with "exhaustive research techniques" (The New York Times).From a master chronicler of legal and financial misconduct, a magnificent investigation nine years in the making, God's Bankers traces the political intrigue of the Catholic Church in "a meticulous work that cracks wide open the...
Video
History in Five: Power, Money, and Corruption in the Vatican Bank
A fast-paced exposé of the money and the cardinals-turned-financiers at the heart of the Vatican, by an acclaimed journalist.
My Life in 8 Words
"
"
Fabulously hectic, interesting, ever changing, and always challenging
Author Revealed
Q. What is your motto or maxim?
A. unless you are the lead dog, the view never changes
Q. What do you regret most?
A. Not having met Trisha earlier
Q. If you could eat only one thing for the rest of your days, what would it be?
A. Pizza. No, peanut butter. No, chocolate cake. See, it's impossible.....
Q. What's your best quality?
A. discipline (helps on book deadlines)
Q. Who is your favorite fictional hero?
A. Frankenstein (heroic no, but I'm a sucker for the 'cruel world turns on different man' theme