Rigpa Translations
Rigpa Translations is a group of modern-day lotsawas working under the guidance of Sogyal Rinpoche and the mentorship of senior editor Patrick Gaffney to translate important teachings from Tibetan into English and other languages. To learn more, visit www.rigpatranslations.org.
Books by this Author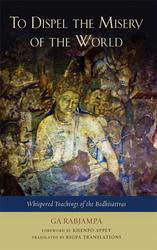 "Offered here is the pith advice on mind training according to the great vehicle. This is the path followed by all the buddhas and their children of the past, present, and future, the most profound instruction of the oral lineage, and the quintessence of the ocean of all the excellent teachings."--Ga Rabjampa This short book contains a wealth of advice for those wanting to become more fully human. When we are disconnected from others we flounder; only by recognizing the profound interdependence...